Unfortunately, many small businesses are not profitable or not as profitable as they could be. And then there are bankruptcies.
Businesses typically fail because of problems with cash flow—extremely hard to have positive cash flow without business profits.
Some business may only break even or even worse lose money (operate at a loss) on a continual basis.
One might think that the only way to increase profits is to increase prices, but it isn't necessary so.
Here are some tips to stay on top of being profitable:
1. Focus on Income Generation
When starting a business the focus should be getting new customers as quickly as possible.
Once the business is up and running, you can fine tune your products or services for greater profitability.
Survey your prospects and customers on a regular basis. Use the survey results in your marketing.
Do some homework—find out which products or services are the most lucrative. Concentrate on those.
Offering profitable ancillary services or products can increase sales and profits. For example:
a chiropractor could sell vitamins,
a barber could sell hair products,
a business lawyer could offer estate planning,
an accountant could offer marriage counselling (just kidding)
A company will never keep every customer or client. Thus you must be constantly marketing to incentivize new customers to try your product or services such as special introductory discounts or free product giveaways.
Hard to beat this offer: "Free initial consultation"
Costco is famous for its free samples—apparently Costco's free samples are unlimited.
Focus on strategies and tactics that will expand your customer base.
2. Retain Existing Customers
Retaining existing customers is less expensive marketing than getting new business.
It's cheaper to get existing customers to become a sources of repeat sales. Care about your customers and nurture the relationship with quality products and excellent service.
Separate your business from your competitors. In some cases you will be selling almost identical products or services. Think grocery retail which is heavily price driven or hair care which is service driven.
Customers love fast, friendly, and consistent customer service. Be there to help customers get the most out of the products and avoid problems.
Work towards to a relationship-based model that gets repeat customers by offering monthly or yearly service plans, or a bundle of visits at a discounted price—like a monthly gym visit plan.
Try offering service plans such as plumbing and heating inspection or pest control.
Marketing message: "We can save you money in the future by identifying pest problems early and eliminating them quickly thus preventing a costly infestation or home damage."
Customer retention programs (loyalty programs) are an effective way to increase purchase frequency because they motivate customers to purchase more frequently  to earn valuable rewards.
Email marketing can be your most effective and low-cost option. Capture emails with every transaction, then use email to stay in touch and offer deals and discounts.
Make customer retention a companywide priority.
3. What is Business Profit?
Profit is when you sell a product or service for more than it costs. Overall business profit occurs when it makes more money than it spends.
In simple terms, profit is when sales (income) is greater than expenses.
Sales                                      $100,000
Less: Expenses                   $85,000
= Profit                                   $15,000
Expenses would include wages, rent, telephone, office supplies and more.
Money coming into a business from activities like borrowing money or owner's contributions do not create income or profit.
When a business starts it may need loans or investment by the owner.
However, continual "propping up" (covering deficits) by the owner is not ideal or realistic.
4. Know Your Numbers
Some products or services may be more profitable that others—you must determine what they are.
Smart business owners that operating efficiently will realize more profit as a percentage of its sales than a less-efficient organization, which must spend more to generate the same profit.
In simple terms, profit is when sales (income) is greater than expenses.
Sales  $100,000, Less: Expenses $85,000 = Profit $15,000.
While this might seem obvious—if you don't know what your profit or loss is, then you are "flying blind."
Businesses that only do annual accounting for tax purposes are in the dark all year long. Way too late to take corrective action for dealing with loss areas or expand profitable sectors.
Accurate and well-organized bookkeeping and accounting can increase your company's chances of survival.
Simply increasing sales or decreasing expenses to make more "profit" may not be the ideal solution.
Embrace technology. E.g. Slow-moving inventory just take up warehouse space. There are low-cost inventory-management software that will effectively manage which items are selling and which aren't.
Examine profitable businesses to see how they increased their profit margins.
One of the most profitable businesses is Apple. After Apple raised prices on the iPhone, the company made record profits.
5. Old Numbers are Useless
Up-to-date bookkeeping is VITAL as it helps business owners keep track of assets, liabilities, income, expenses and cash flow.
This is extremely important as it helps owners, managers, investors, and external stakeholders (such as your bank) keep track of the financial results of the business enabling them to make more informed decisions.
Business owners also have to consider taxes, compliance, and other legal requirements.
A business owner may not have the relevant expertise or experience to manage finances as they are concentrating on sales, product development or building customer relationships.
It's definitely challenging to keep up with tax policies and procedures.
Ways to reduce the burden of fiscal management:
Use online accounting services like QuickBooks or Sage
Use online banking for income collections, paying bills and running payroll
Hire a part time bookkeeper to do payroll, collections and pay bills
Engage a part time accountant to manage the bookkeeper, provide accurate financial reports and be a trusted advisor
6. Need to Change Operating Procedures?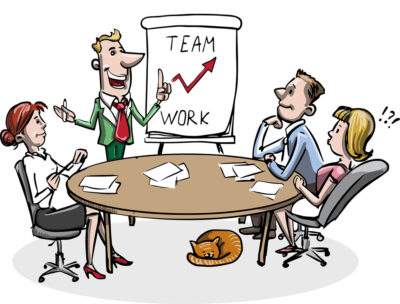 Making more money (the business is profitable) requires constant review and some tough love.
It's important to let your employees and vendors know that you are always watching your costs.
For expenses, review every line item on your profit & loss statement on a regular basis.
Business expenses are in two major categories:
Fixed costs – business expenses that are not dependent on the level of sales. They tend to be recurring, such as mortgage interest, office salaries, truck payments or rent.
Variable costs – change based on the amount of products or services delivered. Variable costs include labor, commissions, and raw materials.
Don't become complacent about fixed costs because they are generally recurrent and may reflect long-standing relationships with vendors.
Periodically evaluate the market to see if you can get a better deal from competing suppliers.
Use a purchase order system—vital for a manufacturing or construction business.
Have the owner/manager approve all time sheets and purchases over a certain dollar value.
It's good practice to get two or three quotes regularly.
Are there routine tasks you could afford to outsource or eliminate to save money?
Would it be more cost-effective to hire part-time help instead of a full-time employee?
Motivate every employee to pitch in to help cut costs. Make bonuses based on company profits.
7. Sales is a Group Activity
In a well-managed company an increase in sales typically means increased business profits.
Every team member has opportunities to be customer friendly and spread the company message.
Reward staff with group acknowledgments such as employee of the month posters.
Invest in employee training to create a business that is built around increasing profits.
Make sales targets known to all employee and keep them informed on a regular basis.
Make staff bonuses based on achieving company sales and/or profit targets
8. Embrace Marketing
Marketing means attracting and retaining customers. It is the processes that a business uses to promote, sell and distribute a product or service.
With consistent marketing, businesses are able to generate new customer interest leading to increased sales.
The more you know about your customer, the better you can craft your messaging and tactics. Surveys are ideal for this—check out Survey Monkey for online surveys.
How to do marketing is seemingly endless from in store promotions to a killer website.
Survey your customers: "How did you find out about us?" You will often find that word of mouth is by far the best marketing tactic.
9. Networking has long been a proven technique
Give your business an online presence with a compelling website and through online networks including Twitter, Facebook, YouTube, Instagram, and LinkedIn.
Use online presentation tools like webinars, tutorials or demos.
Keep track of your customers and prospects using a Customer Relationship Management (CRM) software solution which can be linked to your accounts receivable system. Top CRM tools include SalesForce, Zoho or FreshSales.
Custom sandwich boards will make your business more noticeable from the roadside.
Check out what your competitors are doing and do it better or something else altogether.
10. Annual Tax Return
Creating a profit and loss (P&L) statement only once a year for your tax return is fine for tax purposes but terrible for business management.
Get a monthly P&L done so you know:
Is the business profitable
Are sales increasing
Are expenses getting out of control.
Is the payroll "lean and mean"
Businesses that are not profitable can turn this around with bright ideas and hard work. Persistence and an open mind are key.
Creative Commons Attribution: Permission is granted to repost this article in its entirety with credit to Doug Hay & Associates and a clickable link back to this page.